National Poetry Month is just around the corner!
The Witte Museum partners with local poets and other art institutions to invite you to draw inspiration from varied artwork. Submit a poem written in response to Jovita Idar Little Pantry Cabinet, from our collection. The winning poem will be shared on participating sites in April to celebrate National Poetry Month.
What is an Ekphrastic Poem?
A poem written in response to an artwork. These poems take an existing piece of visual art, and use written words to describe and expand on the theme of that work of art. The poem should not simply describe the artwork; it should express how the art enlightens, puzzles, moves, inspires you, etc. Many of these poems explore hidden meanings or an underlying story.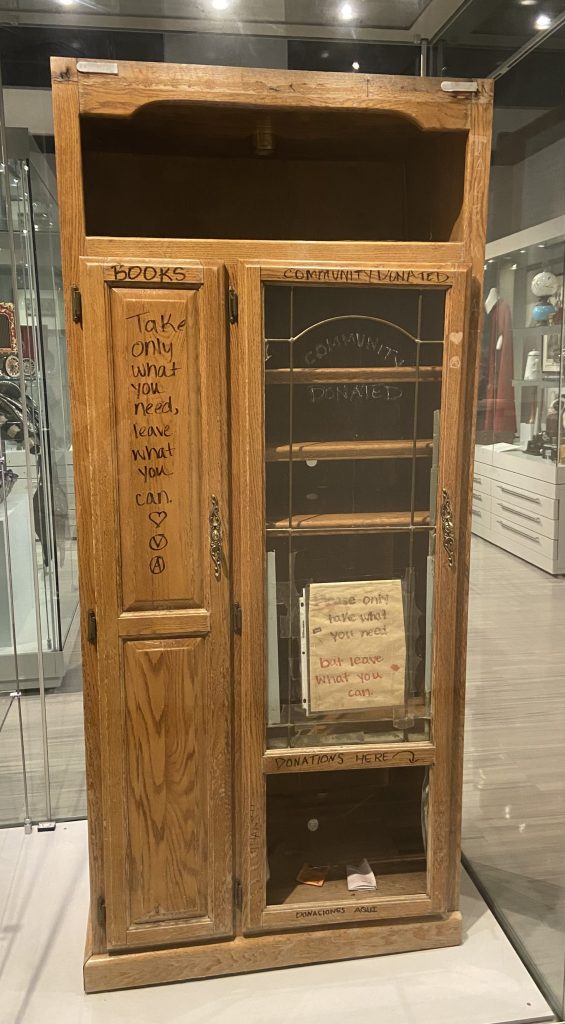 Jovita Idar Little Pantry Cabinet, Gift of Jovita Idar Little Pantry & Fridge
Named after the revolutionary Mexican American Civil Rights leader who defied the Texas Rangers' order to leave her father's newspaper so they could destroy the printing press, the Jovita Idar Little Pantry and Fridge was started by Rhys Sustaita and Ollie Tiara in August of 2020. Their vision and mission grew out of earlier activism with Food Not Bombs, San Antonio. A major factor in the creation of the pantry remains to assist those throughout San Antonio who struggle with both food insecurity and the houseless. Sustaita and Tiara began advertising the idea of pantries to assist communities that needed help with food insecurity on Instagram and Facebook. The program began when a community member in the South Side neighborhood of Villa Coronado contacted the two activists. It remains important that the community requests the pantries and take ownership of their success. The Jovita Idar Little Pantry and Fridge represents the citizens of San Antonio assisting their neighbors in times of need. Learn more about the project and its founders through the Filled with Hope | The Little Free Pantry Movement on YouTube.
To see the Jovita Idar Little Pantry Cabinet, purchase Museum Admission and then ask a Witte team member at the Walker Admissions Desk to escort you to the B. Naylor Morton Research and Collections Center.
Contest Guidelines
Contest Deadline: March 10, 2023. Only San Antonio & South Texas adult & youth poets are eligible.
Submit up to two (2) poems (each no more than 15 lines plus title; spaces between lines count as lines—except space after title).
Attach each poem as a PDF, Word doc, or docx in a separate email to EkphrasticPoetryContest1@gmail.com. No name or identifying info on the poems. No poems in the body of the email.
Emails must include: Your Name, City/State, Contact Email Address. Youth must include age.
Email subject line must read: Ekphrastic Poetry (Adult or Youth) Contest – (Title of Artwork).
Contest Judges will select up to 3 poems per artwork. Only winners will be notified by email with further instructions.
You can find additional artworks and contest guidelines here: